Elizabeth Olson
Psy.D., L.C.S.W., C.G.P., Licensed Psychologist
Founder, Clinical Director
Dr. Elizabeth Olson offers individual, group, and family psychotherapy. Dr. Olson has worked with adolescents, young adults, families, parents, and adults in her private practice for over twenty years. She works with clients over time to help them create lasting, in-depth character change through a deeper understanding and awareness of unconscious, procedural patterns. She enjoys working with individuals, groups and families to create happier and healthier ways of being in relationship with others. Dr. Olson offers consultation on Dialectic Behavior Therapy, family treatment, and group psychotherapy. She presents nationally and has been published on topics that include group psychotherapy, mindfulness, eating disorders, dialectical behavior therapy, parenting, and family dynamics. As a psychologist, her work is informed by her interest in the unconscious, neuropsychology, mindfulness practice, behavioral strategies, and her experiences as a parent and a spouse. In her own life, she enjoys hiking, running, yoga, meditation, and spending quality time with family and friends!
Francis Kaklauskas
PsyD, CACIII, FAGPA, C.G.P., LPC
Clinical Consultant, Psychologist
Dr. Kaklauskas, works with adolescents, young adults, adults, families, couples and groups. He currently leads supervision, training and process groups in his practice. He graduated from the Master of Arts in Contemplative Psychotherapy program in 1992. Since that time, he has provided psychotherapy and other psychological services. He is a Fellow and Board Member of the American Group Psychotherapy Association, as well as serving on a variety of national tasks forces and committees focusing of the topics of research and diversity. Dr. Kaklauskas' other publications include being the primary psychological consultant and on-screen presenter for the best selling three part video series, Hooked: The Addiction Trap, and co-authoring the Group Psychotherapy chapter in The Handbook of Clinical Psychology. He has also co-edited two critically acclaimed psychotherapy textbooks, Brilliant Sanity: Buddhist Approaches to Psychotherapy and Existential Psychology East-West.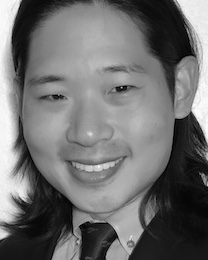 Brian Kim
MA, LPCC
Psychotherapist
Boulder
Brian is a psychotherapist helping people uncover their hidden desires, fears, anxieties, and trauma that lie buried deep in the unconscious mind. Serving children, adolescents, and adults in both individual and group settings, Brian loves traversing into the depths of the mind with clients and helping them integrate forgotten parts of themselves. In his view, voluntarily stepping into our unconscious and facing ourselves willingly is not only courageous, but also a choice to take back our lost power and reclaim our lives. He specializes in working with those struggling with depression, social anxiety, trauma, loss, grief, life transitions, relationship issues, behavioral problems, abuse, and low self-esteem. Grounded in a blend of Existential Psychotherapy, Mindfulness Meditation, Dialectical Behavior Therapy, and Modern Psychoanalysis, his approach aims to help people overcome their fears, make meaningful changes in their lives, improve the quality of their relationships, and reach their life goals. He regards the opportunity to accompany people in this capacity as an honor and looks forward to working with you!
Taylor Millard

MSW
Psychotherapist
Boulder, Denver
Taylor is a Colorado native who has been in the mental health field for over five years.  She works with adolescents/adults in individual, group, and couples therapy, and currently facilitates DBT groups for adolescents and adults at the Collective.  She grounds her work in the belief that all individuals deserve to feel seen, heard, and understood, and she is passionate about co-creating a common language with clients that will allow them to express the previously inexpressible.  While Taylor believes in drawing upon a variety of modalities to honor the unique needs of the individual, she primarily practices from a psychodynamic, feminist interpersonal orientation and also specializes in DBT, ERP, EFT for couples, and trauma-informed treatment.  Her overarching passion is combining psychodynamic, feminist relational therapies with evidence-based practice, and she wholeheartedly believes in the power of interpersonal relationships as being a vehicle for healing and change.  Taylor is also passionate about social justice and is committed to practicing therapy from an anti-oppressive framework.  Taylor's past experiences include working with adolescents and adults in a variety of both inpatient and outpatient settings.  She most recently completed a 2-year, full-time Post-Masters Fellowship at CU Boulder's Counseling and Psychiatric Services (I.e., "CAPS").  In her own life, she enjoys reading, singing, volunteering, and spending time with family and friends. 
Life Skills Coaching/Executive Skills Coaching/Mentoring
Jessica Rangel
BS
Mentor
Born in Chicago, Jessica graduated from Illinois State University in 2013 with a B.S. in Psychology and a focus on Women and Gender Studies. Looking for a fresh perspective, she moved to Colorado where she gained a passion for the outdoors. While working for a treatment program in Boulder, she found herself seeking a way to combine her draw towards nature and her passion for helping others. She has since then worked in wilderness and outdoor adventure therapy in Hawaii and Oregon. Most recently, she worked as a mentor for a transitional housing program, supporting young adults into a more independent life. 
Jessica has always been drawn toward helping others as she brings compassion and a holistic approach to working with a variety of individuals. She recently completed her 200-hr Yoga Teacher Training and is passionate about the mind body connection. Currently, she is a graduate student at Regis University studying Clinical Mental Health Counseling. In her free time she enjoys playing ukulele, hiking, climbing, traveling, and practicing yoga. 
Mel Butler
BA
Mentor
Mel graduated from Rutgers University with a B.A. in Psychology and Cognitive Science. She has provided mental health support in the largest psychiatric hospital in New Jersey and she currently also provides independent living skills training and one-on-one support to clients with traumatic brain injuries through a Medicaid-funded program. She is truly passionate about helping people reach their full potential and helping people to realize their true worth, and she particularly enjoys helping clients with exercise, cooking, academic support, and providing emotional support in way that allows people to feel truly listened to and valued. She lives in Boulder with her cat, Merlin, and spends her free time reading, traveling, and pursuing her interest in psychoneuroimmunology.
Kai Bollinger
BA
Mentor
Kai graduated from Naropa University with a BA in contemplative psychology, concentrating in somatic and transpersonal psychology. Kai has worked in early childhood education as well as caregiving for the elderly. He is passionate about meeting teens and young adults where they are and helping them lead more authentic, satisfying lives. Kai loves movement and exercise of all kinds and believes in the power of embodiment and mindfulness. In his free time Kai enjoys exploring in nature, basketball, meditation, photography, dancing, and simply being with friends and family.